Anatomy of a Makeover: vintage-inspired Holiday party look
Makeup is definitely one of those hands-on activities that's easier to demonstrate than it is to explain with words! So I decided I'd try to a bit of both in this new blog series, "Anatomy of a Makeover:" step-by-step photos taken as I apply makeup, complete with explanations of the why and how. Hopefully this will help you with your own applications!
Meet O, an academic, model, and performer. I've done O's makeup for shoots before, and she assisted me at a bridal expo earlier this year. She jumped at the chance to have me do her makeup documentary-style, and we scheduled the makeover just prior to a holiday party she was planning to attend with her boyfriend. She told me it was a low-key, casual holiday party, but that she was willing to rock more than the usual look. I decided to go with luscious-lipped, lots-o-liner, vintage-inspired makeup that would be flirtatious and fun, but classic and wearable at the same time.
Here's O bare-faced:
I kept the skincare simple, as she said she tends to get shiny throughout the day: a bit of my favorite moisturizer, French drugstore brand Embryolisse, and for primer I opted for Make Up For Ever's All Mat, which aids in oil absorption.
Next I addressed O's undereye discoloration, which she says she has a lot of difficulty covering up:
I'm not a fan of heavy concealers under the eye, which can crease and look cakey – and slapping a light concealer over dark undereyes will look ashy and grey. Instead, I first use a light layer of a color correcting product – in this case, since O's undereyes had a pinky-purple tone, the yellow cream concealer in Graftobian's corrector palette. Yellow and purple are complimentary colors (they are opposite one another on the color wheel), so they cancel each other out. (For the same reason, I'm also a fan of the peachy shade in this palette for blue-ish dark circles.) I patted the yellow on gently with a concealer brush and softly blended it out under the eyes. See the difference already?
I applied a few additional touches of the corrector where needed, before proceeding with foundation application. (When I hand-apply makeup I often do foundation before concealer, so it doesn't get wiped away… and the foundation often ends up providing enough coverage that you don't need as much concealer. But in this case, I planned to airbrush, so I do concealer first so I don't change the smooth finish of the foundation after the fact.)
I applied a blend of Temptu SB #s 4 and 5 to O's face, focusing on the areas that needed coverage and keeping it very light overall, so she wouldn't have a heavy-looking face of makeup for the party. I almost always end up blending foundation colors & corrector tones together to achieve a perfect match, which is why I prefer the Pro system to the consumer system that Sephora carries. (The pods are great for personal use if you are a good match for one of their 12 foundation colors, but they don't allow for blending if you aren't!)
She looks even – the undereye discoloration is corrected – but pretty flat, right? I never stop after applying only one color to the face – I prefer to add back a bit of contour and dimension. For this step, I used MAC Strada, a (sadly discontinued) matte taupe, in the areas of her face I wished to slightly recede: her hairline, beneath her cheekbones, her temples, and VERY lightly along the sides of her nose. I added a touch of Benefit Hoola matte bronzer along the tops of her cheekbones & nose (everyone needs a little warming up in the winter, right?), a natural, rose-colored blush (one of the shades in my La Femme palette), and a touch of MAC Shroom eyeshadow along the very tops of her cheekbones (yes, eyeshadow! Shroom is a light, shimmery beige that makes a nice highlight, but I use a variety of different products and finishes to achieve this effect – airbrush colors, creams, liquids, you name it. I LOVE highlighting!)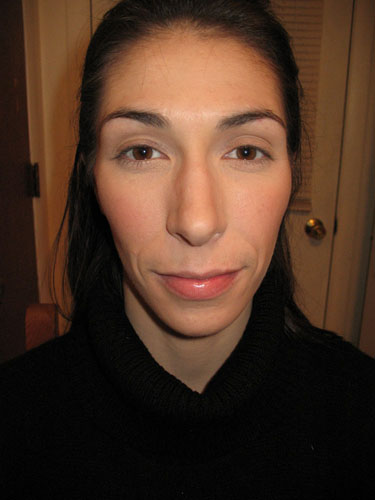 Much better!
Now, the fun part – defining the eyes. I love doing eye makeup; it was my first love and it's always something I enjoy, and with so many different eye shapes and colors out there, my job never gets boring! For O, the goal was a subtly contoured eye with black, winged liner and false lashes. I started by applying my favorite eye makeup primer, Too Faced Shadow Insurance, which provides an even-toned base and helps ensure the eye makeup will last long without creasing – I apply it lightly from lashline to brows. Next, I brushed on her crease shade, a light taupe MAC eyeshadow, using a fluffy brush at this point to keep the application soft & diffused: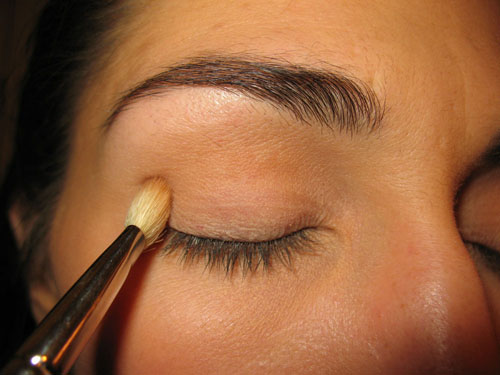 I started working a darker matte shadow into the outer crease and corner of the eye to give it more definition – at this stage, you can switch to a firmer, pointer brush if you want a very noticeable effect, but I tend to choose softer brushes to keep blending diffused (it's much harder to draw a strong line and then blend it out than it is to start softer and build the depth slowly):
Now to add a little subtle holiday sparkle! I used a denser brush to pat on a soft, shimmery rose-gold eyeshadow (MAC All That Glitters) at the center of the eye, to catch the light without disturbing the texture of the contouring. I also used a smaller paddle brush to apply a lighter champagne shade at the inner corner of the eye.
Time to line! I used my tried-and-true MAC Fluidline in Blacktrack, with a firm angled brush, to work the color along O's lashline and start building up to the shape I wanted: very thin on the inner corner, and building up to a thicker line at the outer corner. This helps lift the eye and give it shape without weighing it down, and it's a must for a vintage look!
Next, I slowly extended the line into a cateye shape. This is the trickiest portion of this kind of application, since you want it to be symmetrical. If you mess up, you can use a cotton swab dipped in makeup remover to correct your mistakes – I always carry a stash of DHC Olive Oil Swabs, since they're double-sided, individually wrapped, and quick and easy to use as an "eraser" when needed!
Curling the lashes is so important as it really opens up the eye and makes the most out of your natural lashes (because if they point down, they aren't as visible even with mascara). I'm a bit of a freak and have four different curlers, all different shapes and sizes – this one, from Urban Decay, is no longer available (I hope that means they're re-engineering it so that the bumper pad doesn't fall out so easily!) and has to be used carefully, but I like that it's cage-free, making it fit almost any eye shape (and giving lashes one less thing to get snagged in!)
(I was not curling her lashes while taking this photo – that would be potentially painful! But I wanted to show the shape of the tool, which I've found helpful. Use curlers gently, especially when you're starting out, and be especially careful if you have any mascara already dried on your lashes because they're more brittle.)
I finished this phase by applying mascara – my old standby, CoverGirl LashBlast Fusion in Very Black. I use disposable mascara wands to apply, but you'll appreciate the brush that comes with this tube if you're applying mascara to yourself – it really grabs every lash and extends them beautifully, and I find it holds a curl well, too.
Have you ever applied eyeliner only to notice that you can see a strip of bare skin between your liner and your lashes? Tightlining to the rescue! Use a water-resistant product to gently brush color right into the lashline – I chose Urban Decay's Perversion pencil liner, which is nice and soft (you won't want a dry, hard pencil rubbing against the sensitive part of your eye, so look for a soft pencil or use a brush to apply pencil or gel liner).
Next up, a little "boost:"
I chose a pair of wispy lashes from eeyelash.com, which I trimmed to size and applied with Duo adhesive and tweezers. Here's the lash just after being placed on the lashline (the glue has yet to dry):
I then used the tweezers to adjust the corners and gently press the lashes down into place, as close to the natural lashes as possible. Once the glue dried, you can really see the effect they have!

I almost always save the lips for last – like dessert! O has a slight scar on one side of her lip line, which you can see on the upper right of this image of her bare lips:
The scar is very smooth so it helps to use something opaque over it before going in with lipstick. I lined and filled in her lips in MAC Dervish, a pinky-mauve nude, to enhance the shape of her lips and even them out:
I finished by letting O try out two different lip colors – the first was a vampy red from Three Custom Color – I love this photo of O checking out her sassy new reflection:
She loved the sexiness but decided to keep the lips toned down with a more neutral color, so I blotted down the red and applied a lighter neutral-plum shade, also from 3CC's Warm Lipstick palette (which is so nice for people with golden skintones):
Here's the final "before & after" – thanks so much, O, for letting me do your holiday party makeup (and submitting yourself so bravely to the no-frills documentation process!)
What makeup did you wear for your holiday parties – bold & sparkly, soft & natural…? Share in the comments below!
Comments
comments