Your wedding day beauty prep timeline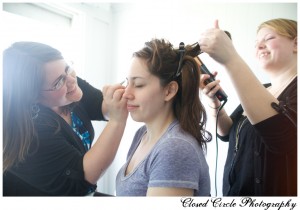 Even if you've planned thoroughly in the weeks and months leading up to your big day, a lot happens on the wedding day long before you walk down the aisle. Wondering how to make the most of that pre-ceremony prep time? Here's what you need to consider:
When should I do my nails? If you're planning on a mani/pedi, consider getting your nails done the day before. Depending on the formula used, nail polish can take awhile to harden completely (they might seem dry but many kinds of polish can be easily dented hours after application), so you'll be unable to do much of anything until they are fully hardened. Unless you're getting a fast-drying manicure at the very crack of dawn, save yourself the frustration by getting it done the day before (and set aside a bottle of a matching color & top coat for any emergency chip repairs!)
Which comes first, hair or makeup? In a perfect world, hairstyling happens first because the hot styling tools might cause perspiration, and also because the makeup artist can remove any overspray from the skin before starting. However, your schedule may dictate that hair and makeup happen in tandem – or, in a REAL pinch, simultaneously. As long as you avoid having a shine product sprayed too close to your face after your makeup has been done, it's OK to switch up the order. (Definitely try to avoid going under a hot dryer with a finished face, though – that can be uncomfortable!) Also think about your chosen style – for example, if you'll have bangs or wispy pieces of hair across your face, that section should ideally be finished after the makeup, or gently pinned back before makeup begins.
What time should I start hair & makeup? I always ask my clients to determine when they'll need to be dressed and ready, and then we work backwards from there. I suggest finishing hair and makeup approximately one hour before "go time" – that leaves plenty of time for everyone to get dressed, gather their things, hug, take pictures, and share a final toast. You may not need that much time but also remember to factor in whether or not you are having getting-dressed photos, first look photos, or if any family or bridal party photos will be done pre-ceremony. That way you can determine the order and scheduling of services accordingly.
Does the bride go first or last? Neither! Actually, this really depends on your schedule and personal preferences – for example, if you're going to have pictures taken before the ceremony, you may need to be finished earlier than the rest of your group. If not, you could go towards the end – but I no longer recommend going last, as I've noticed that things tend to get super busy in the last hour of prep: family comes in to say hello, photographers and florists arrive, and suddenly everyone will have lots of questions for you. If you're already out of the chair, you'll be in a much better position to take it all in with minimal delays.
How long does hair & makeup take? This depends on the artist(s), on the number of people getting services, and on the complexity of the desired looks. I always allot at least 35-45 minutes per person for makeup, with a little extra time for the bride. Hair can range from just a few minutes for a simple primping to an hour or more for an intricate updo. My suggestion is to OVERestimate how much time you'll need – that way your schedule will allow for different styling choices and last-minute add-ons, as well as late family members, interruptions, and other unanticipated (but often unavoidable) wedding day chaos. If you have a very large group and you know you'll be tight on time, ask your hair and/or makeup artist to bring a second stylist, or book one yourself.
Where should hair & makeup happen? Whenever possible, I always request a spot by a window – natural light is ideal for makeup! Make sure there's somewhere for makeup & styling tools to be set up, a power outlet or two, comfortable temperature, and a reasonable amount of space for the number of people who will be in the room. I always come prepared with lighting, a folding table, an extension cord, and my own makeup chair, but not all artists will be so equipped, so plan accordingly!
How will I get everything done while sitting still in the hair & makeup chair? This is where it's best to delegate ahead of time, decide what the rules will be, and stick to the plan. Answering the phone, texting, getting hugs from friends and family, answering bridesmaids' questions about which earrings to wear… all of these things are great but they can slow down the beautification process significantly, which is a problem if you're on a tight schedule. Also, if everyone is demanding your attention at once, it will be difficult to relax and enjoy the process of being pampered. Instead, delegate phone-answering to a bridal party member if you can, and try to limit the total number of people in the prep area. If nothing else, your artists will love you for it!
Do I really have to figure all of this out myself? No – that's something wedding planners and coordinators are happy to do for you! Decide whether you want to be in charge of every detail, or whether relaxing is more your style. And don't overlook the possibility of unexpected problems on the day of – every bride has a story to tell about minor (but annoying) things that went wrong, and how they were handled (or not!) Hire if you can; delegate if you cannot.
Comments
comments