Wedding Pro Spotlight: Rebecca from Forget Me Not Florist
Not only have I teamed up with Rebecca on several gorgeous styled shoots, but I've been surprised and delighted many times while doing makeup at a wedding when she walked through the door bearing boxes of beautiful bouquets. You've never seen so many smiles! I'm pleased to share a Q&A with Rebecca, as well as some pictures of her work (courtesy Sandra Costello Photography).
1. Tell us your name, business name, what you do, and where you do it!
I'm Rebecca Fitzgerald, owner of Forget me not Florist located in Northampton, MA. I am a full service floral designer with two downtown locations. We create unique custom designs for all occasions.

2. What – or who – got you started as a floral designer?
It's a funny story… I was on a summer vacation with my family. Out of the blue, my sister Louise called me and said that the flower shop in town was for sale, and did I want to buy it? I pointed out that we had never designed before, and "Can we talk about it first?" She replied that we had to let her know by the next day. So we jumped in with both feet and bought the store, which was called Wildflowers of Williamsburg (very fitting to our design sensibilities and hill town heritage!) We taught ourselves how to design in a way that was very natural. We owned the store for nine years.
3. How would you describe your style as a florist?
I would describe my style as "modern country chic." I love to use unusual flowers to create a conversation piece as well as a unique custom design. I think because I am self-taught I am very open minded with my designs, unlike a floral institute student who is taught to create by way of a formula.

4. What or who inspires your professional style and the work that you do?
The flowers themselves inspire me. I will sometimes order flowers that I have never seen before, and it is like Christmas when the box arrives and I open it. I get so excited; my inspiration to design is uncontrollable. I love textures: using berries, twigs, herbs, and focal flowers (such as kale and protea) to transform the ordinary into the extraordinary.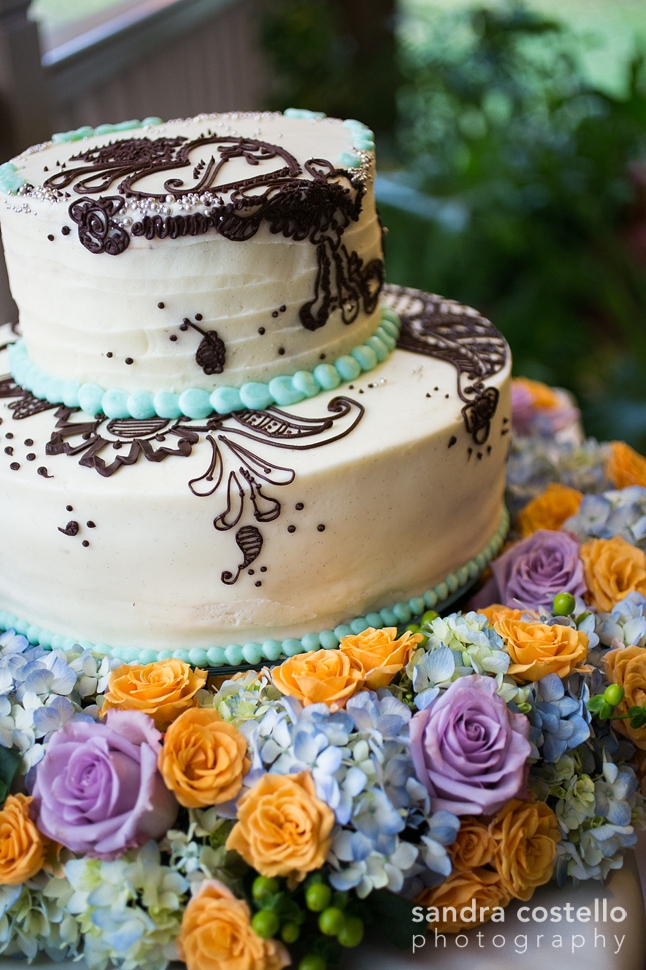 5. What types of clients do you work best with?
The clients I work with best are the ones who appreciate my particular sensibility and let me customize something to best fit their style and personality. Flowers are like makeup: we both want to enhance our client's personal beauty without changing it!
6. What tools/equipment can you not live without?
I definitely couldn't live without the support and love I receive from my family, friends, and fellow wedding professionals. Whenever I doubt myself they are always there to encourage me to be true to myself and to focus on what I do best!

7. What are some of the most challenging aspects of your job?
The biggest challenge is having two store locations (and six employees) and being a mom and wife, all at the same time! It's very fast paced. I personally process all the flowers at the Round House location and ship them to the Thornes Market shop. The scheduling for my employees is constantly changing due to college schedules, children, and family. We all work very hard together to make the business successful. And my family is so important to me – we like to eat home-cooked meals together, which some nights means we don't sit down until 8pm! Juggling it all is a challenge, but I wouldn't have it any other way.

8. What do you find most rewarding about your job?
What I find most rewarding is the emotional reaction I get from my brides on their wedding day when they see their arrangements. It tells me not only how thrilled they are with my design, but how important a role I played in their special day.
9. What tips do you have for couples looking to hire a florist?
Before choosing flowers for your wedding, educate yourself about the cost of different types of flowers so you'll know what to expect. In my experience, brides come to meetings with images of bouquets that average between $150.00-$350.00 each. Think about your budget and choose flowers accordingly. (As a guideline, the average floral budget is around 8% of your total wedding budget.)

10. Tell us a story about one of your favorite jobs.
On of my favorite arrangements was created for the Food Bank of Western Mass circus gala, which took place at the Basketball Hall of Fame. I created an unusual design incorporating kale, rosemary, pincushion protea, hydrangea, berries, and roses. The event was vintage circus-themed, so I filled a vase with popcorn and placed the arrangement on top. It was perfect for the charity event (and, of course, delicious!)
Comments
comments