Microblading 101: Alicia Dane's fabulous framejob
I'm a big fan of full, natural-looking but well-maintained eyebrows. This preference stems from my own time on the eyebrow roller coaster. For the first half of my life, I wore my eyebrow full and natural. (Yes, EYEBROW, singular. Ha! OK, I'm exaggerating, but my natural eyebrows barely separated in the middle.)
Then I started plucking – minimally at first, but after bearing witness to the trends of the 90's/early 00's (and spending entirely too much time with a magnifying mirror), pretty soon I was going for broke and ultimately ended up with skinny, sad, uneven strips of hair:
Luckily for me, they grew back. But it took years to figure out how to shape my (straight, not very archy) brows for my face. And even once carefully groomed, they are sparse and uneven, with hair growing in different directions and one set a bit higher than the other, so I have always had to fill them in with a pencil or eyeshadow in order to feel my best.
I had never previously considered getting tattooed eyebrows since I know, as an artist, how much our faces – and styles – change over time. But in the last few years, microblading has gained popularity – and once I saw what was possible with this new, precise, and semipermanent form of brow tattooing, I was ready to jump aboard the bandwagon. It certainly didn't hurt that Alicia Dane, one of the best brow stylists I have ever come across, lives right here in Western MA – and not only was she willing to answer my questions, she was happy to take me on as a client!
Read on for a complete overview of Alicia's technique in her own words, as well as amazing photos from her portfolio (and my own before and after at the very end!)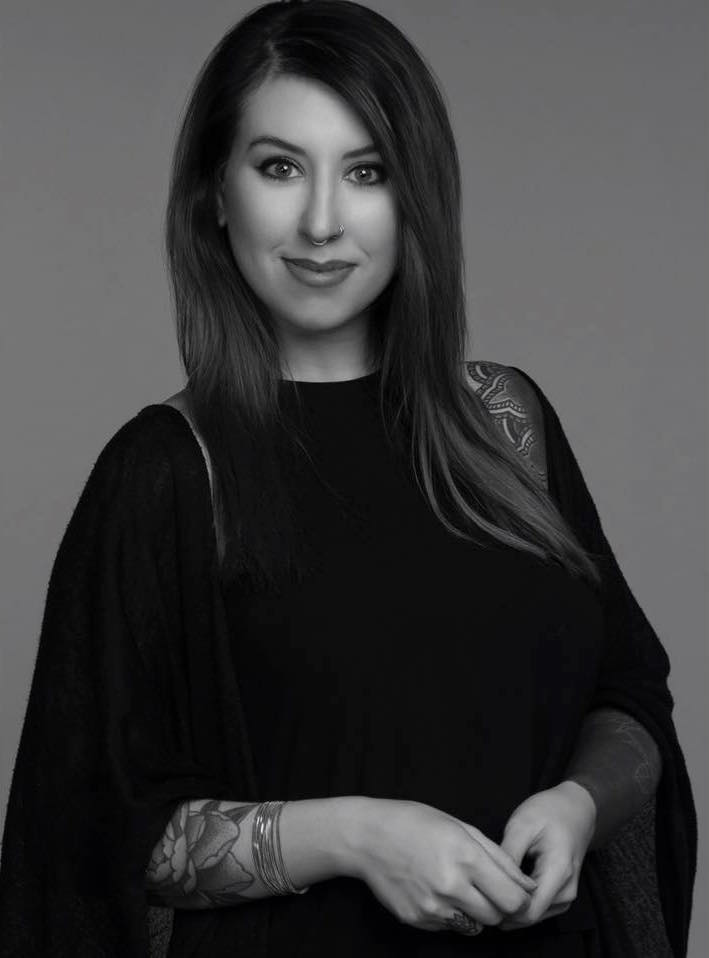 What is eyebrow microblading and microshading?
Eyebrow microblading is a form of tattooing that mimics natural hairs. This process is done by hand with a pulling or swiping motion using a manual pen and a micro set of pins creating a "blade." This implants pigment under the skin, resulting in extremely realistic hair-strokes. The strokes are very fine and crisp, just like natural hair.
For coarse hair, or for a more elevated made-up looking brow, microshading is also an option. This method is done similarly to microblading but involves a different technique creating an overall filled-in look for added dimension. Placement of this shading varies from brow to brow.
How is microblading different from traditional eyebrow tattooing?
The major difference is the end result. A traditional tattoo machine is simply unable create extremely realistic brows.
Another difference is in the flexibility of the pigments. Microblading uses pigment as opposed to ink, which is specifically designed to be processed by the body differently. The pigments dissolve faster, so as we age and as trends change, we can continue looking our best.
Both of these techniques deposit pigment into the basal layer of the epidermis, a part of the skin closer to the surface than traditional tattooing (which is done completely in the dermis). The shallow nature of the placement assists in the semi-permanent lifespan of the brows, though trace amounts of pigment can potentially be left behind.
What inspired you to learn this new skill, and how did you get started?
Coming from the beauty industry as a working makeup artist, I saw so many of my clients had hair-loss issues or were filling in their eyebrows daily. When this revolutionary method of brow tattooing made its way to North America, it caught my eye and I immediately knew that I had to perfect the craft in order to give my clients the best brow options out there. (Plus I totally wanted to be a tattoo artist as a teenager!)
Who is a good candidate for microblading?
The answer involves several factors:
Medical History: All of my clients fill out a form before coming to see me for their brows. If they are currently undergoing chemotherapy, using Accutane, or are pregnant/nursing, I am unable to work on them. Certain health conditions may cause the brows to fade faster, so we always discuss these issues prior to the appointment.
Skin Type: Dry, normal, and some combination skin types have the best results with microblading. Oily skin can fade the pigments faster and can also soften the crispness of the strokes.
Lifestyle: Excessive sun exposure, microdermabrasion, light therapy, chemical peels, retinol creams and other treatments may shorten the life of your brows. Exposing your skin to these products either sloughs off skin, taking slight amounts of pigment with it each time, or causes excessive skin regeneration which will take slight amounts of pigment with it each time. (Skin treatments can be done after microblading, but it is best to avoid the actual eyebrow area.)
How long does it last?
Everyone is different when it comes to the lifespan of their eyebrows. Generally, yearly touch-ups are recommended for maintenance.
How do you go about choosing a brow shape and color?
Brow shape and color is one of the most important parts of the process.
Shape: Using the Golden Ratio Method, I draw a brow shape to perfectly balance out the face. Taking into consideration what hair the client already has (though it is most often a corrective process). This is done mostly lying down, but all final corrections are made with the client sitting up to make sure the brows are 100% symmetrical.
Color: In microblading and microshading, we will ultimately see the color through the skin, not on top of it. So the skin's natural color plays a huge role in the color choice. Generally, I like to match the client's natural eyebrow hair color, though some clients prefer them to be a bit darker if their natural hair is very fair.
What is an appointment like?
After intake paperwork, there are 3 stages: consultation, drawing the shape, and finally microblading. The process is straightforward and done in a relaxing environment.
How should clients prepare for an appointment with you?
I ask my clients to avoid alcohol the night before, as well as aspirin, ibuprofen and caffeine the morning of – in other words, all blood thinners (unless prescribed). I give clients the option to come to their appointment with their brows shaped and filled in, or au naturel based on their comfort level, but I do prefer there to be minimal to no face/eye makeup.
Another thing I ask is to let the brow grow out first, as there's no telling what will be in the new shape.
After the appointment, what care is required?
Aftercare will be explained in detail upon completion of your service but here are a few major points to know: you will need to avoid excessive sun, sweating, and getting the brow area wet for a full 7 days. I supply each client with the correct aftercare ointment to prevent scabbing.
Anything else clients should know?
People often ask about the pain level of microblading and as many clients can attest to, it is very mild. I use a topical anesthetic throughout the process for comfort.
Microblading is a two-step process. About a month after the first appointment, we have a "perfecting session." At that time we can modify color, shape, or make them fuller based on client's preference. Microblading is an art, not a science, so it is crucial to see the healed result to make any corrections necessary. I include this session in my initial cost.
Word to the wise: do your research. Not all microblading artists are created equal! Here are a few questions to ask yourself when trying to find an artist:
Are the hair strokes fine and crisp, or are they muddy and blurry?
Do the strokes criss-cross under the natural hairs or flow beautifully alongside them?
Is the shape boxy and harsh, or balanced and flattering?
Does the artist show healed work in their portfolio?
I wish for there to be amazing and gorgeous results from the entire experience, so I provide my contact info to all my clients and am available to them day and night.
* * *
Alicia, thank you so much for answering this Q&A and – especially – for my fabulous new eyebrows! My appointment took less than 2 hours from start to finish, and wasn't particularly painful at all (although I did resist the urge to sneeze a few times – the proximity to my sinuses was impossible not to notice!) I am super happy with them and encourage anyone who has struggled with their eyebrows to check out this technique.
Comments
comments