Hi! I'm Liz Washer, and I'm passionate about helping women look their best and feel confident for special occasions and every day.
I specialize in airbrush makeup because it makes you look flawless in person and on-camera, and it works on all skin types.
Read more to find out if I'm the right makeup artist for you:
How long have you been doing makeup, and how did you get started?
I did my very first wedding in 2005. It was so much fun, and I definitely got the bridal bug!
I got started years before that, and purely for the love of it. The big secret is I'm actually kind of a tomboy (shh, don't tell anyone!), but I dabbled in 3-D model painting and blending colors as I was developing my artistic side. When I started doing makeup, I quickly realized how much fun it was to exercise control over one's appearance, confidence, and personal style. It's amazing what a difference the little things can make!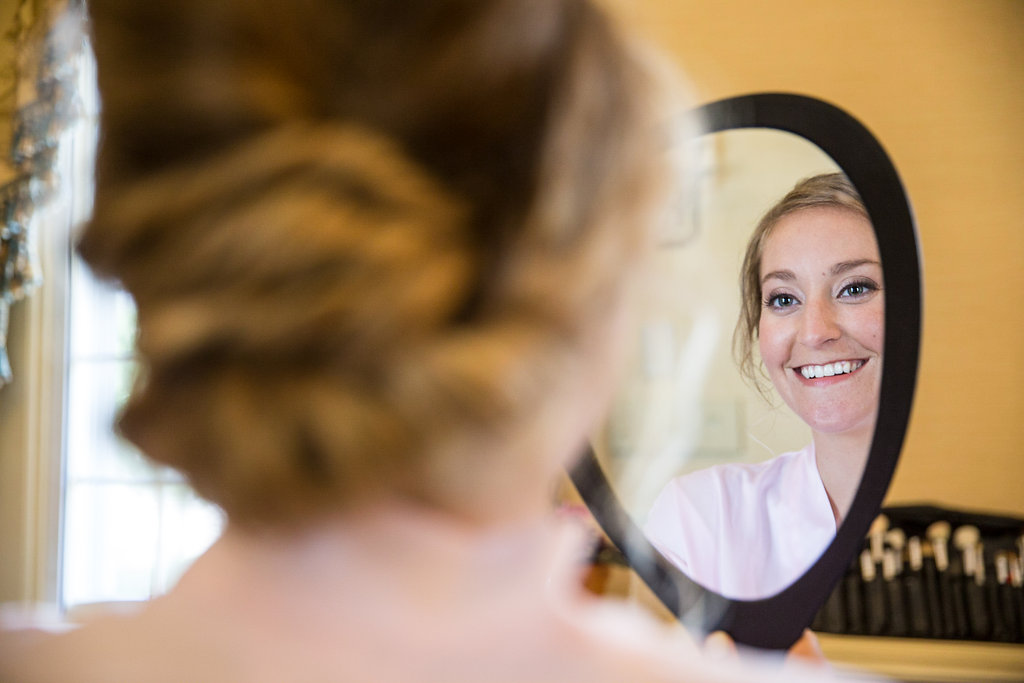 I was hooked. I started out doing makeup on myself and friends, and spent years taking lots of close-up photos so I could see exactly how my work translated on camera (I'm a perfectionist that way) – pretty soon I was doing makeup on everyone who would sit still long enough. From there, I began studying and getting as much training as I could while building my portfolio, which eventually lead to the creation of my editorial & commercial website (launched in 2009).
Since then, I've worked on countless weddings as well as advertisements, catalogs, commercials, headshots, events, performances, fashion editorials, runway, and independent film. My work has been published in local and national magazines (both online and in print), featured in commercial campaigns, and I've even had the opportunity to work with a couple of celebrities. My specialty is clean, feature-enhancing, camera-ready makeup for women and men of all ages and complexions.
And the learning never stops… I regularly attend professional trainings and workshops, work with other artists in the field, and take on new challenges to keep my skills sharp. It's safe to say that my efforts have snowballed into an amazing and enriching career!
What do you love most about doing makeup?
I believe that beauty is universal, and makeup is one way to let it shine through! I love the effect makeup can have on a person's overall style and attitude, and I strive to enhance both with my work. I relish working with color and texture and finding ways to enhance the face in front of me, and I enjoy the collaborative process involved in a wedding, shoot, or any professional work that I do.
What sets you apart from other makeup artists?
My focus is makeup for high-definition photography and video. I learned to do makeup for the camera right from the start! The reason my portfolio is so extensive is not just because I love doing photoshoots (although I do – they're so much fun!) but because I know how important it is for makeup artists to create faces that look amazing in person as well as on screen, in any lighting situation.
As an agency-represented artist with a flourishing commercial media makeup career, I'm something of a rarity in the bridal industry (particularly in Western New England). I bring an editorial eye to every wedding that I do, and I don't fall back on a cookie-cutter look that doesn't suit the face (or the personality) that I'm working with. I work very collaboratively with clients to help them look their best from every angle and in every medium. My motto? Blending is everything!
Another thing that sets me apart is that my services are fully mobile – I come to you with my kit, comfy director's chair (to make you feel like the V.I.P. you are), and even a table and lighting if needed. You don't have to worry about providing a perfect studio set-up for me, and you don't have to take time out of an already stressful day to go to a salon to get your makeup done. Just sit back at your home, hotel room or wherever, relax and enjoy a mimosa while I work my magic! I also have a modest home studio which provides a comfortable space for client consultations and session makeovers.
I don't sell makeup, so when you hire me, you're not going to get a relentless product pitch (though I'm happy to share recommendations on request). My kit is customized and I use a variety of different pro products, and my goal is to create beautiful, long-lasting faces (that result in flawless photos) for my clients.
Finally, I'm an avid writer and love to share my knowledge with others (you can download my ebook below). I regularly serve as an expert resource in a variety of media, and I publish a biweekly newsletter as well.
Who do you work best with?
I've been so fortunate to have the clients I've had! The brides (and grooms!) that I work with have unique personal styles and share their ideas with me so I can craft the wedding look of their dreams. Lots of my brides are really creative – I've seen them tackle so many cool projects during their wedding planning, and it's really inspiring to see what they come up with. Some of my clients are everyday makeup wearers and some hardly wear any at all, but they all have a few things in common:
They want to make the most of their investment in photography and videography
They want to look like the best version of themselves – not like they're wearing a mask
They want to actually enjoy their wedding day, without having to worry about their makeup!
Oh, and they also usually love animals. That has nothing to do with makeup or weddings; it's just something I've noticed. Which is always nice, since I love to exchange pet stories! (That's Edie the wonder mutt pictured below, accompanying me on a recent makeup shopping excursion.)
Do I really need makeup for my wedding? Will I look like myself?
Absolutely! I specialize in clients who don't normally wear much makeup and I make sure to learn about their personal styles and comfort zones. Makeup is about looking like the most amazing version of yourself, in person and in every photo. When we go without, our features tend to be harder to distinguish and we may look washed out. And if we wear our everyday makeup, we may not get the results we're hoping for (many everyday products and application methods don't translate well on camera). As Calvin Klein said, "The best thing is to look natural, but it takes makeup to look natural."
Oh who am I kidding – I love makeup and I want to stop traffic!
Splendid; we'll have a blast! I love when clients share their ideas – feel free to bring photos or send links that demonstrate the look you're interested in and I'll adapt it to your features and coloring.