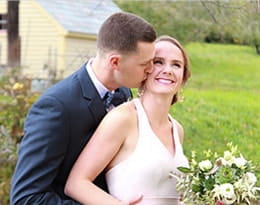 Weddings
Classic to contemporary, traditional to offbeat… how would you like to see yourself?
Special Events
Wouldn't it be nice to get pampered before the excitement of a big event?
Photoshoots
If you're planning a shoot for yourself or for a client, camera-ready makeup is a must.
Make up Lessons
I offer one-on-one lessons and group sessions. Perfect for bridal showers, "pamper parties" and girls' nights.
TESTIMONIALS
Liz applied fabulous air-brushed and hand applied make-up to my 53-yr old face for my step daughter's wedding. She also recommended a hair stylist which, me being from out of town, was a tremendous help. Between the two of them, I looked about 20 yrs younger and received countless compliments on my appearance throughout the long (and hot) celebratory day! The make-up stayed looking fresh through it all, and I felt great!

Liz helped me feel happy, frisky, and even BEAUTIFUL in front of that scary camera. I was full of weird anxieties ('I don't want to look too made-up!') and I am absolutely overjoyed with the result. I'll probably be using these headshots for the next ten years … at which point I will go straight back to Liz and [photographer] Lesley!

Spelman College

Being a bride at 39 is a bit humbling, but when Liz was finished with me, I felt absolutely beautiful and glam. Liz did my makeup and my two teen daughters – they looked totally age appropriate and exactly like themselves. (My oldest asked for a retro look and she looked absolutely beautiful, and my 15 y.o. looked so natural and her big brown eyes just popped.) After a formal ceremony at 11am and then a rockin' after party, I got back to our bridal suite at 1am (17 hours after application) and saw that not only did I still look fresh and my makeup still in place, my super sensitive skin never reacted to Liz's makeup. Amazing!

Liz was amazing and I could not more highly recommend her as a professional makeup artist. My airbrush makeup lasted all day and looked perfect even after 12+ hours! She is professional, organized, and responsive. Finally, she is so kind, funny, easy going and she has a nice calm demeanor that was perfect for the hectic wedding morning. She was perfect and I could not have been happier. In fact, one of my bridesmaids was so happy with Liz's services that she is booking her for her upcoming wedding.

Liz is simply fantastic. I was literally a blank slate for her to work with because I have a hair loss disorder and do not have any eyelashes or eyebrows. Liz brought out my best features and made me look absolutely fantastic and still like myself. My lashes and brows looked entirely natural and held up all night. Liz is talented, punctual, kind, and professional – she calmed my bridal jitters and even gave me a touch-up goodie bag! I never needed it because my makeup, including the false lashes, held up all night through tears, laughter, and lots of dancing!

Liz was fantastic. She worked with me to fit my busy wedding day schedule and was accommodating to all of my needs. She listened to what I wanted and never tried to make me look like something I wasn't. I was hesitant about hiring a makeup artist until I decided I'd rather not stress out about it that day. I am SO glad I did. Not only was it less stress on me, but it was actually a relaxing experience and one of the highlights of the day. Liz's calm and collected attitude really helped bring everyone's stress level down. Liz is an amazing makeup artist and will have you looking exactly how you imagined, only better.

Before I chose a date, a venue, a dress, or made any wedding related decisions other than saying "yes!" when my partner proposed, I knew I wanted Liz Washer to do my make-up. She was perfect to work with: professional, funny, and calming. More importantly, she made me look and feel fabulous. The end result: an overwhelming desire to make eyes at myself in the mirror, giddy with appreciation of my own features expertly framed, enhanced, and highlighted. Liz is a fantastic make-up artist and the best gift I gave myself on my wedding day. I would recommend her (emphatically!) to any bride!

Liz was the first and last makeup artist I considered for my wedding! When I started my search (about six months out), I was impressed by her website and reviews. Once we started emailing, I was blown away by her responsiveness. Liz asked lots of questions before and during the trial to ensure my look came out the way I wanted. I loved the way I looked and felt after both the trial and the wedding. The day of the wedding, she was all set up and ready to go when I got back home from the salon. We felt totally relaxed the morning of! I would highly recommend Liz as your makeup artist!

Liz, I can't thank you enough for the FABULOUS job that you did!!!! My friends absolutely LOVED you!!! My one friend Colleen has been in literally 9 weddings this summer and she said that you were by far the best person she has had do her make-up!!! They all want you to live with them so you can make them beautiful everyday! As for me I didn't wash my face until Tuesday LOL!! Look forward to needing a make-up artist again just so I can call you up!!! Thank you a million for everything!!!!!

As a professional photographer and sometimes model, I've worked with a lot of makeup artists. I met Liz in the latter capacity and was totally blown away by her work. Liz was able to create something striking while still keeping it fresh, young and very natural looking. Liz made my skin look flawless. I admired Liz's work so much that I got in touch after the shoot to set up a makeup lesson. I feel like I've always done a pretty good job with my makeup, but the tricks and insight Liz provided changed the way I did my makeup, and totally for the better. From the first makeup application to the lesson and shopping trip, I had a truly fabulous experience!
LATEST BLOG POSTS
Go On, Get Gorgeous
There are only so many weekends in a year – check my availability today!