Monica's smoky purple bespectacled bridal beauty
Sorry, I just love the word "bespectacled." And I'm a glasses-wearer, too (nearsighted like whoa), so whenever one of my brides wears her frames down the aisle, I invariably break out the alliteration: "Beautiful bespectacled bride!" Maybe I'm developing a new niche?
Anyway, don't mind me – check out Monica's rockin' look! She told me that dark and smoky was her style, and that she loves the color purple, so I had fun creating a look that suited her. (It looked like smoky eyeliner that coordinated with her hip frames, but every time she blinked you'd also see a flash of color – fun!) Luckily, Monica has big gorgeous eyes that don't get overwhelmed by dark eye makeup and false lashes, so I knew she could pull it off.
First, my arsenal:
One of Monica's bridesmaids admiring her new reflection (it was so touching to see her get all emotional!)
Monica posing with one of her bridesmaids (whose makeup I also did):
Can I get an "aww"?
Posing with the groom and one of her friends (who just happens to be an aspiring hairstylist and makeup artist, and who I had a great time talking to during prep! I was very gratified that he was so impressed with my work.)
In this photo, you can see the touch-up kit that I give my brides – it's the sassy little satin drawstring number in her left hand:
I love pictures of laughing brides:
Showin' off the goods:
This picture cracked me up too much to leave it out (and yes, these are posted with the bride's permission!)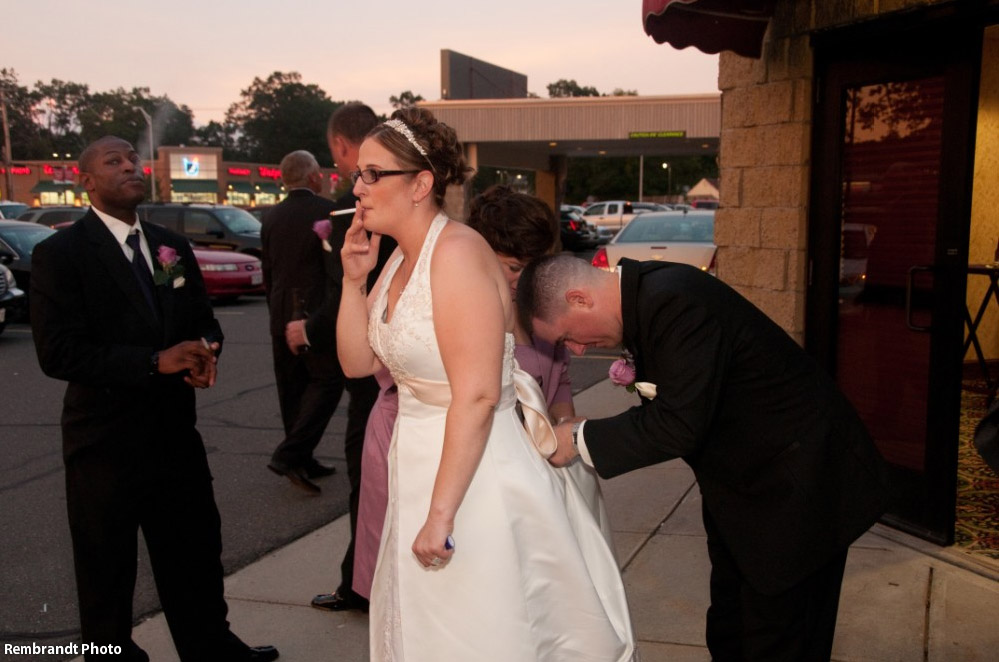 More laughing awesomeness:
On the dance floor…
The (smoky) eyes have it:
Cheers! (Love the goblets!)
Photos by Rembrandt Photography
Comments
comments