Anatomy of a Bridal Makeup
If you're new to makeup, or just fascinated by its transformative capabilities, you'll love this series of behind-the-scenes pictures taken at one of my recent weddings which illustrates the process beautifully, start to finish. (It's rare that a wedding photographer shoots the entire makeup sequence so I just had to share the results!)
Here's what I did for Lauren, step by step.
Although the order isn't terribly critical to my process, most of my brides get their hair done before makeup. This is usually more comfortable for them, as they won't be sweating under makeup and hot styling tools at the same time. (By doing makeup after hair, I can also ensure that any leftover styling products are removed from the skin.) Here, Lauren checks out her completed hairstyle:
Ready to go with a clean, bare face in the makeup chair! (Lauren had some lip balm on in this photo, to soften her lips in preparation for lipstick later on.) She's clearly already gorgeous; my job is to take her natural beauty to the next level by making her features pop in person and on camera, using pro products and techniques that will keep her looking great all day: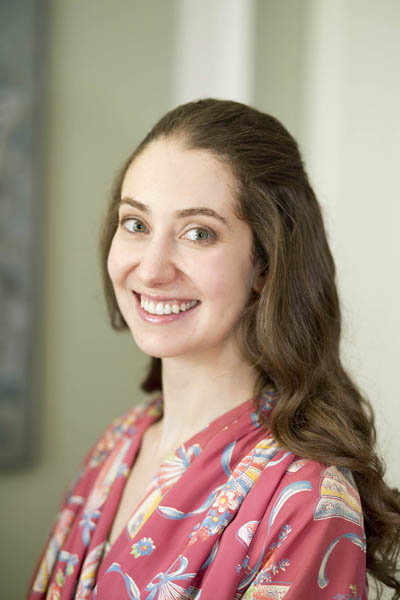 In many cases (especially when doing a more dramatic eye makeup), I do the eyes first, before foundation, concealer, or other skin correction. This allows me to clean up any eyeshadow fallout and apply the foundation fresh, rather than possibly having to start over under the eyes. (Many artists load loose powder under the eyes to catch fallout and then brush away the excess, but I don't like the look of a heavily powdered undereye, so I rarely use that technique.)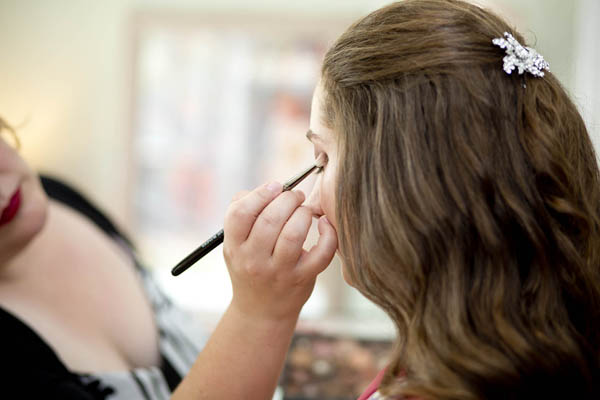 Here she is with eyeshadow and top eyeliner applied – there's still some final blending and tweaking to do, but the main shape is in place. Note that the gel eyeliner on her top lid is tapered: thinner at the inner corner and thicker at the outer corner. This helps enhance her natural eyeshape and keeps them looking big & beautiful. She looks fancier already!
On to the airbrush foundation! In this photo I came in close for detail work, which I can do easily and gently with a dual-action airbrush gun. One of the reasons I prefer this type of "old-school" pro equipment (instead of the newer push-button pods available on the market) is the ability to strategically fine-tune the opacity of application depending on where the skin needs more or less coverage, simply by adjusting my distance from the face and the trigger pressure (which, in a dual-action gun, controls the amount of product released and the intensity of the spray). This results in a more natural-looking, skin-like finish. You can read more about airbrush makeup systems and application here.
Nice and even! But isn't it funny how flat and unfinished makeup looks at the halfway point, without blush, mascara, contouring, brows, lips, and other details? (This is why it pays not to peek in the mirror too soon, because you'll probably look a bit strange until all the details of the look are in place!)
Let's bring out those gorgeous cheekbones (while the hairstylist makes some final adjustments in the background)…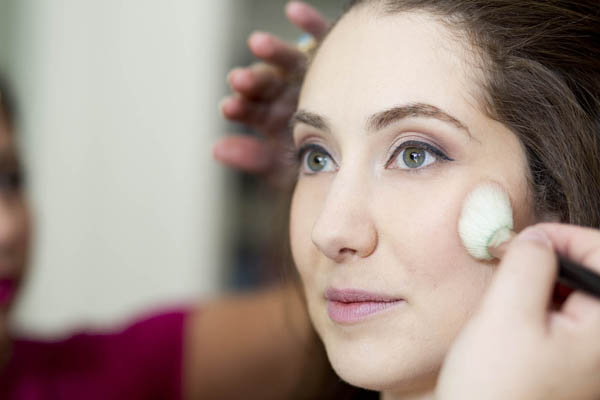 Brows are incredibly important to makeup. Lauren is blessed with naturally beautiful eyebrows: well-shaped for her face, and plenty of hair. But much like our eyelashes, there are usually some sparser areas in the eyebrows that benefit from being filled in a bit, especially for camera. I'm a fan of a natural-looking brow (nothing too opaque, unnaturally squared off, or blocky) – here, I'm applying a matte eyeshadow with an angled brush:
Notice the difference? Here, Lauren has her brows filled in and I also lined her lower lashes, using a warm brown pencil. This makes her already gorgeous green eyes look even bigger and greener. Eyeliner is always done to enhance the eyeshape and color of the client in my chair – some people look amazing with eyeliner on the top and bottom lashlines, while it would be too heavy on others.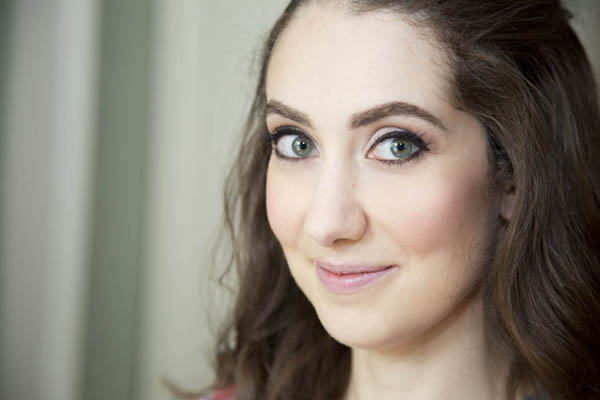 Lip liner is next – I chose a natural tone in a long-lasting formula that will help keep the color on all day. (All she'll have to touch up occasionally is her lipstick.)
Speaking of lipstick, I loved that Lauren was willing to wear a little color on her lips! It just lights up her face. Her bone structure looks great in this photo too – you can see the very subtle cheekbone contouring I did, keeping it soft since she will be in daylight for her photos & ceremony (just say no to stripey faces!)
Just about done! But we decided on one final step…
Lauren has long eyelashes naturally. And as amazing as she already looks above, we decided to add some extra fullness with a row of individual lashes. I used a mix of medium and short length knot-free flares, which blend beautifully into the natural lashes. Here they are freshly applied, before the glue has dried:
Once the lash glue was dry (which takes about 5 minutes), I touched up the eyeliner, gently curled the lashes together with the falsies, and made my final tweaks. After less than an hour in the makeup chair, Lauren was ready to walk the aisle!
Photography: Donna DeMari Weddings
Comments
comments