Curious to try Greenery, Pantone's 2017 Color of the Year?
Every year, color authority Pantone selects a hue that both reflects and informs upcoming trends in the worlds of fashion, design, and beyond. It's always fun for a color nerd like myself to see what they choose (and why). The 2017 choice is Greenery, which looks exactly how it sounds: a fresh, grass-colored, yellow-based green.
There's almost certainly another blog entry in the political and ecological rationale behind the choice – but for our purposes, I thought it would be fun to showcase how it could be used in a makeup look (for the admittedly daring!)
I found two examples in my portfolio archives – unsurprisingly, both feature the color used only on the eyes, paired with subtle peachy tones for the rest of the makeup.
For this romantic, ethereal shot, I blended the color above the crease of the eye to match the flower in the model's hair:
And for this moodier, dramatically lit portrait, I created a sharp angled line around the entire eye, blending into a darker forest green at the outer edge:
(If you're willing to endure some funny looks at the grocery store, you could also try Greenery on the lips, but if you're going for wearable, green eyeshadow – or nail polish – is obviously your best bet.)
Not your style? Don't feel bad! Yellow-based greens aren't easy for most people to pull off: they can mimic illness, exacerbate sallow tones in the skin, and make any redness in your eyes stand out significantly. If you decide to try a Greenery-toned eyeshadow or liner, be sure that the product is saturated enough to show up unmistakably as makeup (see my product picks below).
And if it's still a big fail, just wipe it off and try bright green accessories instead (which pair beautifully with more natural makeup!)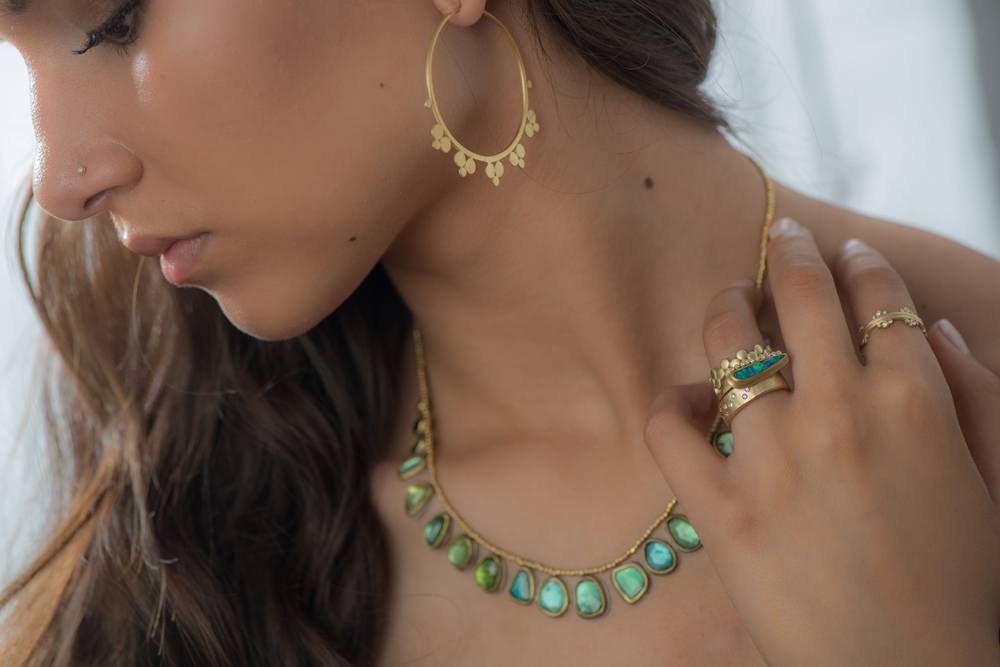 Product picks:
MAC eyeshadow, Lucky Green
CoverGirl Liquiline Blast pencil, Green Glow
Fortunate Face Minerals eyeshadow, Neon
Inglot AMC gel eyeliner, #85
Make Up For Ever eyeshadow, #336 Lime
Photography credits (all makeup by me):
Kris LeBoeuf
Angela Michelle Perez
Ananda Khalsa jewelry
Comments
comments