Wedding Makeup Guidelines: Pandemic Edition
As I'm sure my 2020 brides will attest, the Coronavirus has created an upset in the wedding world (not to mention the world at large!) My heart goes out to everyone who has been affected, whether it's the disappointment of rescheduling events, the lost income, or – worst of all – someone we love falling ill.
Now that summer is approaching and reopening guidelines have been released by the Commonwealth, I'm gathering the information and supplies needed to work as safely as possible once I'm cleared to do so.
As of today (May 18th), the reopening guidelines for MA are as follows: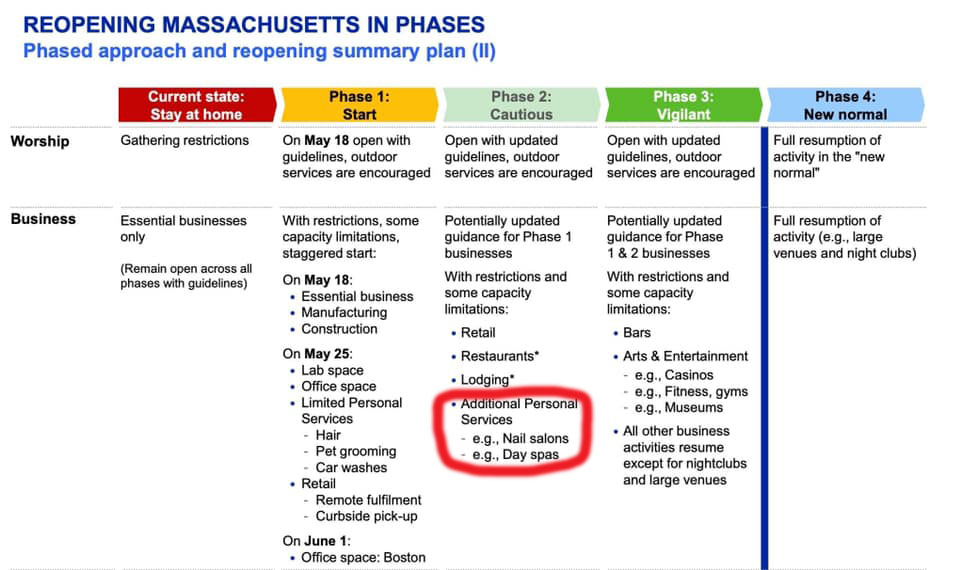 While makeup has not been directly addressed by the state, as a personal services provider who is in physical contact with clients' faces (and – obviously – cannot maintain 6 feet of distance while working), I would most likely be categorized as a salon/spa worker, alongside nail techs, facialists, and massage therapists.
Based on the current guidelines, I believe I will be allowed to work once we reach Phase 2. (Stay tuned!) With this article, I hope to give you an idea of what that will look like, what changes to expect, and what courtesies I will need from my clients.
Here is what I already do (and what I have always done) to protect my clients during makeup applications:
HAND SANITIZER: I wash my hands or use a hand sanitizer between every person who sits in my chair, since touching the face is a necessity during makeup applications.
AIRBRUSH: Airbrush is perhaps the most sanitary foundation application method out there, since the gun never touches the face directly. (The guns are thoroughly cleaned between jobs so that they don't clog.)
DISPOSABLE APPLICATORS: When expedient, I use one-use disposable applicators such as swabs, gloss wands, sponges, and cotton rounds.
BRUSHES: All non-disposable brushes are thoroughly deep-cleaned with soap and water between jobs. I also carry an alcohol-based brush sanitizer for on-the-job cleaning as needed. (My "abundance of caution" plan is to use separate brushes for every person who receives services, rather than sanitizing and reusing.)
CREAMS: Cream-based products, such as gel eyeliners and lipsticks, are scraped out of their containers with a sanitized palette knife and applied off of a stainless steel palette that is also sanitized between clients. (This way, the brush can be reloaded on the palette, without contaminating the original container of product.)
LIQUIDS: Liquid products, such as foundation and lipgloss, are also dispensed onto the palette prior to brush application, or applied with a disposable applicator (with no double dipping). Mascara is applied with a one-use disposable spoolie.
PENCILS: Eye and lip pencils are sharpened between clients and sanitized with 70% alcohol.
LOOSE POWDERS: Loose powders are dispensed onto palettes or applied from the underside of the cap, which is sanitized between clients.
PRESSED POWDERS: Eyeshadow and other pressed powders are wiped down with 70% alcohol.
FALSE LASHES: False lashes are applied brand-new and are never reused between clients.
In order to address the proximity issues unique to this pandemic, I will also be changing some things about how (and where) I provide services:
We will touch base before the wedding to make arrangements for the space in which I'll be working. The main requirement is that I set up apart from the bridal party and other vendors in order to avoid excess exposure and to enable as much physical distancing as possible.
Only one client at a time will be allowed in the makeup prep space (no onlookers, and no children who are not also receiving services).
The prep space should have good light, good air flow (an oscillating fan is recommended), an electrical outlet, table space, and a non-porous, barstool-height chair that can be sanitized (vinyl, plastic, or wood, instead of fabric – unfortunately, I am unable to use my folding canvas chair in a pandemic, and cannot realistically bring heavier furniture myself). Most hotels and venues can provide these things for you. On cooler days (70 degrees and below), shaded outdoor spaces are fine.
Please arrive for your timeslot makeup-free, initially wearing a face mask. Before we start, we'll have a quick, socially distant (across-the-room) conversation about these guidelines, as well as your desired look, which will help minimize the need for excess conversation once you're in the chair. (I'm normally pretty chatty while I work, so this will be challenging for me!) Please note that you'll also be asked about any recent symptoms before we begin, and I reserve the right to refuse service to anyone who isn't feeling well – this is to protect both myself and my subsequent clients.
I will be wearing a face covering while working for your protection, and clients will keep their masks on for the first part of receiving services (eye makeup application – yup, I like to do eyes first even under normal conditions, so I can clean up any fallout before applying your foundation). Your mask can then be removed for the rest of the service.
No beverages or cell phones will be allowed in the chair, which will help keep my kit & tools sanitary.
While I know these changes may seem a bit draconian, they will go a long way toward reducing everyone's risk and giving us mutual peace of mind during an unprecedented time. Thank you so much for reading and sharing these guidelines with your group, and be sure to let me know if you have any questions!
Sources:
The AICP Covid-19 Workplace Guidelines & Considerations
Covid-19 Photoshoot Guidelines
Comments
comments